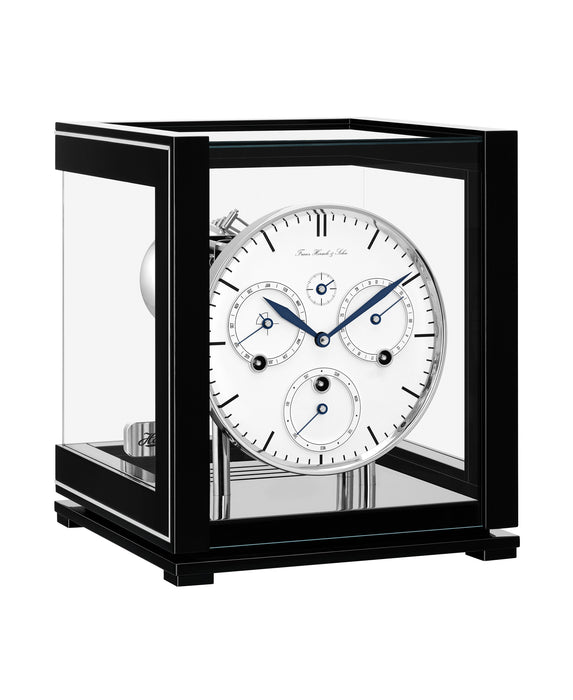 PERPETUAL CALENDAR
Sold out
Original price
$20,667.00
Original price
$20,667.00
-
Original price
$20,667.00
Original price
$20,667.00
THE PERPETUAL CALENDAR - THE GRAND MARVEL FROM HERMLE

This perpetual calendar is the Grand Marvel of clocks with a 4/4 Westminster chime movement. Without a doubt, a summit of horological art representing the science and art of horology at the very highest level. In short: something extraordinary. The perpetual calendar is not just a timepiece, rather it is a design object - timeless and exquisite. In addition to the time, the date, day, month and seconds are remarkably visible. The high polished case as well as the polished metal inlays make this clock look ultra-modern.
A TIMEPIECE IN ELEGANCE AND GRACE
The perpetual calendar is equipped with the highly polished W0352 Westminster chime movement, which must be wound every eight days. This Westminster chiming movement chimes every 15 minutes, strikes the hour and can be switched off at night if necessary thanks to the automatic night shut-off (last strike 9:45 pm, next 7:00 am). The mellow sound of the bells will be a welcome addition to your home. The new perpetual calendar winding key is finished in chrome and is cleverly recessed behind the movement. Due to the anti-reflective glass fronts, the movement is perfectly visible from all sides. Another highlight of this clock is the cube, which has to be removed upwards to wind the movement. The hands are hand blued.
The perpetual calendar - a masterpiece of clockmaking art 100 % from Reichenbach am Heuberg.
TECHNICAL DATA OF THE PERPETUAL CALENDAR
Case: highly polished case in black or walnut incl. polished metal inlays
Dimensions: height 29,5 cm, width 25 cm, depth 25 cm
Movement: 4/4 Westminster chime W0352 with automatic night shutoff
Duration: 8 days
Rate regulator: Swiss echappement
Drive: mainspring
Rubies: 11
Dial: date, day, month and second indication, available in white or black
Beat rate: 18.000/h
Limited to 101 pieces