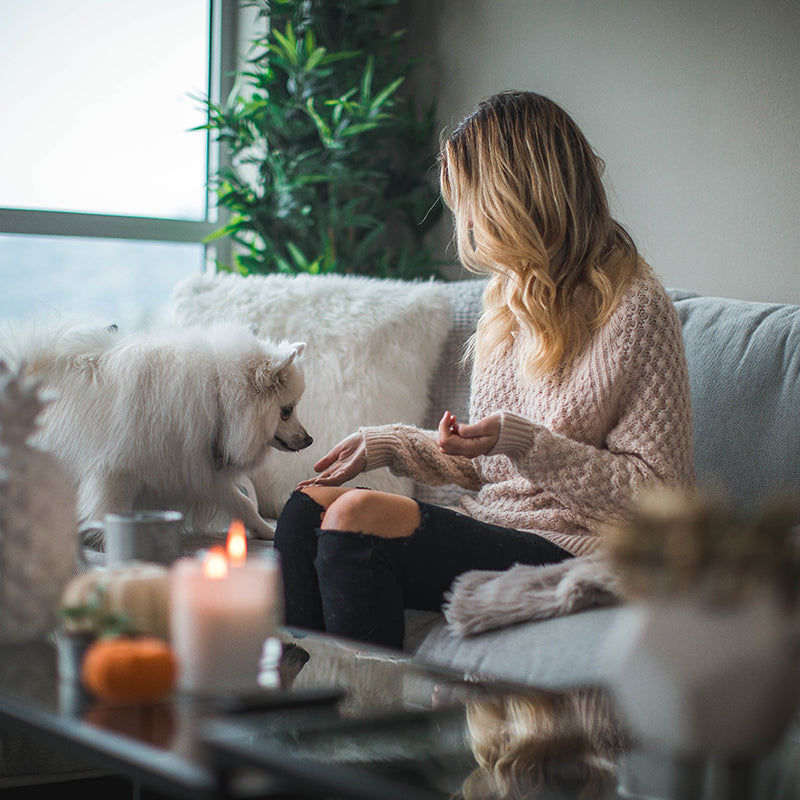 How To Decorate Your Home In 10 Steps When You're Starting From Scratch
With as many design options as are available, deciding what you want within your budget, space restrictions, and finding what is accessible to you can seem impossible. Instead of digging in, many of us just stick up whatever we find, meaning that our homes end up looking like a disorganized mess with no central theme to tie it together. That kind of overwhelming feeling when you're surrounded by moving boxes and aren't sure what box you packed your pajamas in can leave you feeling a bit upset. Don't worry! Emperor Clock and Hermle North America have teamed up to give you a step by step guide on exactly how to find the style that fits you and your home, with tools on how to find the perfect pieces!
1) Find what you like

HGTV / Via giphy.com
The first step in any decorating project (and truthfully, often the one we get stuck on), finding out exactly what it is that you like and would like to carry over into your own home is vital to any design project. Search the internet and home décor magazines using tools like Pinterest, Instagram, HGTV, or Houzz, (but please don't feel the need to limit yourself to only these!) to find photos for inspiration.
2) Collect around 12-20 pictures
Via gph.is
Once you find photos that you like, make sure to save them (either by saving the image to a folder on your desktop, or by Pinning it on your Pinterest board) so you can go back to them. Collect between 12-20, and then sit down and look at the photos—what is similar about them? Are you drawn to a specific color? What aesthetic most appeals to you, rustic, modern, industrial, or bohemian? Do the minimalistic photos make you feel open and unencumbered, or do you prefer organized clutter to make your house feel homey?
3) Look at your space
Disney / Via gph.is
Take some photos of the space you want to decorate, or draw out a quick sketch. It doesn't need to be perfect, and definitely not to scale, but you want to get a good idea of the general layout of your room so you know where things might fit best. This is a good time to take measurements of how big your room is, where you have windows or lighting entering the room, and what pieces you definitely need to include—example: Is your living room going to be a relaxing oasis with a comfortable chaise and perhaps some books for just yourself, or do you want it to be a place of entertainment with your television and lots of seating for friends? The overall function of the room is an important step to consider in your decorating decision.
Pro-tip: To help visualize how things will fit, place your moving boxes where you want large furniture pieces to go. This will help you get a feel for the space and see how well things flow together before you move in the big stuff.
4) Create a budget
Bravo TV / Via gph.is
I don't care how much money you make—a budget is always required so you don't go overboard and find yourself sitting in your beautiful living room with luxury items eating a bowl of generic spaghettios because it's all you could afford. A budget is very important to anything that you do. If your style demands expensive items, plan on slowly acquiring and adding what you need as you find and can afford it. Even for those on a shoestring budget, some expenses can't be avoided entirely, so develop a plan for how to maximize what you get for your money. DIY projects found on various blog posts and Pinterest can be a great alternative to decorating your home for less. To save more money, mix inexpensive accessories like pillows, blankets, lamps, etc by looking for pieces at thrift stores and budget stores like Target, T.J. Maxx, and Homegoods. If you have a blend of inexpensive and expensive things, nobody will be able to tell the difference and you'll be able to rest a bit easier when sitting down to pay your monthly bills.
Hermle and Emperor have a wide range of clocks available for purchase for a wide price range! Check out our new and improved online retail website at Emperorclock.com to find the right piece for your home and wallet.
5) Pick a color palette
Disney / Via gph.is
This could be easy or difficult, depending on how those inspiration photos clicked together. If you found that you're drawn to the clean brightness of whites, spend some time in your local paint department and even bring home a few samples of various shades so you can see what works the best in your home with your lighting. Make sure to see the paint in the daylight and at night to make sure you like it. I always aim for about 5 shades lighter than I think I want to go, especially if there is some hue to the paint, because it always looks darker once it's on the wall. Make sure to play around to find your exact match.
Just because your wall color is chosen doesn't mean you stop there! Find two or three complimentary shades to match your main color choice through Pinterest and Google. Chances are, your paint chip will include some coordinating colors that will help you get an idea of what will work the best. Use these colors to add contrast and visual interest through your artwork, pillows, and décor accessories like books, lamps, candles, etc. Don't be afraid to think outside of the box when it comes to color! That said, be sure to find a balance between light and dark pieces, or bright and neutral pieces. Too much of one thing will be very noticeable and will detract from the overall interest you're trying to create.
6) Don't be afraid of old
Paramount Pictures / Via gph.is
All new items can work if you're going after that Ikea or modern look, but can also end up feeling shiny and not very comfortable to live in. Old pieces have lived through time, and they add depth to a space. Antique stores have beautiful pieces, but tend to be more expensive for much of the same stuff that you can find at thrift stores, so keep that in mind as you're watching your budget. Thrift stores, flea markets, garage sales, and auctions can give you pieces with history, and history means character. Not to mention you can get a great deal on décor pieces at most of these places if you keep an eye out and find the right piece at the right time! Remember to shop smart and only purchase the items that work for you—don't buy something because it looks like a good deal but you have no idea where it fits in with the rest of your décor. Also, consider accepting hand-me-downs from family, friends, or even using things that you've already had that might fit in well with the rest of your décor theme.
7) Choose a focal point
Dwayne "The Rock" Johnson / Via gph.is
Look around your space when trying to decide what the focal point of the room should be—that is, what is your eye naturally drawn to? If you don't have anything moved in, what is the first direction your head turned to when you walked in? This may be a fireplace, a large window, or even a large wall where you can visualize a bright pop of color in the form of artwork aweing those who walk in. Use these as starter points for your decoration, but make sure to avoid cluttering up these areas as it becomes visually confusing. Also be aware of focal points when adding furniture or large items like entertainment centers or television sets, as they can look like they are visually competing and drown out the authentic beauty of these spots in the room.
8) Move furniture away from the walls
9) Keep the center in mind
Disney / Via gph.is
When adding furniture and wall pieces, make sure to keep center points in mind—that means look at where the center of your room is in both height and width, and then working from those axis points. Working from the center out keeps things balanced, but asymmetry can also be visually dynamic as long as you make sure to balance it evenly on either side. Good visual markers to look for are windows, as they can help give you visual balance when hanging pictures or mirrors on the wall.
10) Keep surfaces open
Universal Pictures / Via gph.is
While some surfaces are going to require things placed on them like books, lamps, clocks, and the like, try to keep surfaces as free from clutter as possible, as they end up looking messy. Consider shelves hanging from the wall as alternatives to placing things on tables to free up space and use more vertical storage. This gives everything a place and makes it easier to clean!
Most importantly, make sure to enjoy your home! It's a place to unwind and entertain, so be sure to give it the love it needs!