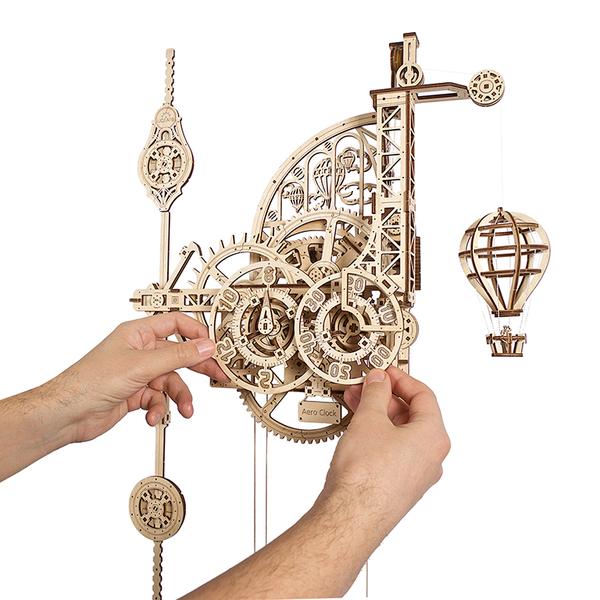 UGears Aero Clock
Original price
$79.99
-
Original price
$79.99
Released at a moment when the world seems to have slowed down, the Ugears Aero Clock, a wooden wall clock with a pendulum that you build yourself, is both timely and timeless in its simple elegance. This beautiful and functional wooden wall clock model is for horologists, for hobbyists, for explorers, for creatives and romantics of every stripe, anyone who is ready for new challenges and ready to take risks. The Ugears Aero Clock is a new and exciting addition to the Ugears collection of fascinating mechanical models, 3D puzzles, game accessories, wooden puzzle boxes, children's toys, and education STEM Lab model kits.
This simple-yet-elegant clock is driven by the force of gravity pulling down a weighted bag (you can fill the bag with sand or salt). Raise the bag on its pulleys to wind the clock. As the weight slowly descends, it rotates a drive gear, which then rotates an escape wheel through a reducer. The clock features an adjustable weighted pendulum that interacts with the escape wheel through the steady tick-tock of the anchor mechanism. You can adjust the clock's ticking action to the second, by sliding the pendulum's top and bottom weights. The reducer also transmits rotation to an hour disc and a minute disc. One of the interesting features of our Aero Clock is that time is not read with rotating hands on a clock face, but rather a fixed pointer indicates time on the slowly-rotating, numbered hour and minute discs.
As you build the Aero Clock, a wooden wall clock with a pendulum, you will learn the basic principles behind clockworks, how the steadying influence of a swinging pendulum operates through a rocking anchor, locking and unlocking the gears on an escapement one second at a time, thereby regulating the (slow) descent of the weight as it drives both power gears and timekeeping gears.
Model Size: 29.5 x 18.5 x 6.5 in
Package size: 14.9 x 6.7 x 2.0 in
Number of parts: 320
Level: Hard
Assembly Time: 11 hours
Recommended Age: 14+
Kit weight: 3.00 lbs