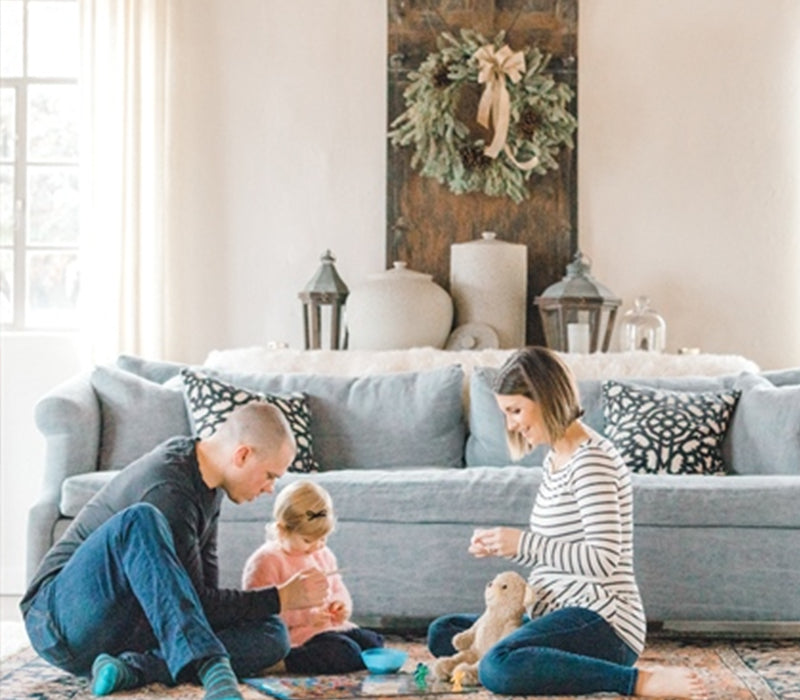 Designing a Home with Kids in Mind
Back in our day, if rooms were decorated for kids, it meant a couple of posters tacked to the wall or at the very most, a wallpaper boarder across the top of the room.
But today, designing for children is vastly different, and it's approached with just as much intensity as designing for adults. More than ever before, we are seeing the connections that children have with the spaces that they're in, and spaces that simultaneously calm them while positively stimulating their minds and increasing their spatial awareness are showing up in homes with children all across the country. For anyone looking for a place to start, we've come up with 5 best tips for decorating a child's room.
Storage, storage, storage.
Children these days (ugh) have a LOT of stuff. Toys, clothes, books, tablets and electronics, educational materials, you name it. The problem with all of this stuff is where in the world do you put it? To help your kids stay organized (and save your sanity), make sure everything has a place to go and (here's the important bit) make sure your kids can reach it themselves. By creating storage that kids can access, you teach self-reliance so that children can find the items they want without needing your help, and it offers an opportunity to teach them self-discipline through cleaning up after they're done. (Pro tip: take a picture of what 'clean' spaces look like and what goes in each bin. Tape it somewhere in the room as a visual aid to show children what to do when they're done playing.)
Foster Creativity
Creativity is great—until you see it in action, including the mess it generates. To work around this, create a continuous art center by painting an accent wall with chalkboard paint. Chalkboard paint is widely available through most home improvement stores and it's so easy to do. As an added touch, attach a galvanized metal bin to the wall for holding chalk. It keeps the chalk in one place and by attaching it to the wall, you don't have to worry about children chucking the contents of a bin across the room. Trust me on this one.
Decorate the walls
Kids love bold colors, and particularly if the rest of the home is neutral, offering children the opportunity to get creative within their spaces can be a great stimulation for their developing minds. Select a few colors that are fun but easy to decorate around (or, if you're really brave, let them pick for themselves. I promise, though, without fail, the shade of pink they'll choose will burn your retinas once it's on the walls). Murals, artwork, and clocks (especially cuckoo clocks) are fun and really make a children's room pop.
Make collecting easy
An Association of Consumer Research study showed that for children, "collecting gives them something to do with their free time while showing themselves and others what they are capable of accomplishing  (Baker, 1996)." For hanging pictures, hang some twine across the room with clothes pins so that children can rotate them out. Hang shelves for displaying rock collections, and offer plenty of display surfaces for showing off LEGO creations. For added fun, hanging a galvanized metal sheet (which can be easily purchased in most home improvement stores) offers an inexpensive way to create a magnetic board for children's spaces.
Light it up.
Be sure to include multiple kinds of lighting in a kid's room. Central room lights are important (think nice and bright), but smaller reading lights are important. Night lights for younger children can help keep them from becoming afraid once it's lights out, and can even help them find a bathroom in the middle of the night.
Overall, keep children's rooms about them and let them showcase their interests and personalities. By including children in the conversations about their space, you're teaching them that their voices matter in decisions that affect them.
**Clocks featured in this article are the Nicolette grandfather clock and the Bailey wall clock.